"7 Easy Ways to Decorate With Primitive Salt Dough Ornaments"
By Niki Jackson, "The Vintage Artist".
Primitive ornaments can be used in a variety of different ways to decorate your home any time of the year.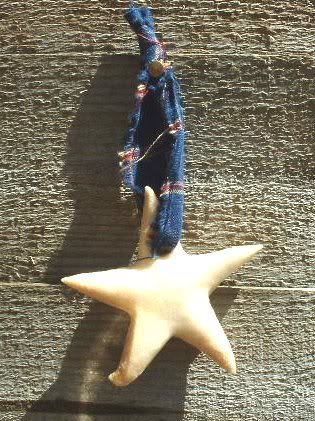 They are made from a special salt dough recipe and usually hung with homespun fabric. Some people may feel that these kind of ornaments can only be used at Christmas time, on their trees or hanging from their walls. However it has become a tradition in the primitive world to have a decorative tree or two in your home for every season of the year. This is an excellent idea, not only can you use different shaped and scented ornaments but you can also decorate your tree with other primitive items you have collected.


If you prefer to save your tree for Christmas or you simply don't have the room for a tree all year round, here are some easy ideas you can use to decorate with your salt dough ornaments;

1) Walls - hang your ornaments up with a simple brass or wrought iron hook.

2) Beams - if your home has beautiful wooden beams you can hang your ornaments from
them. The contrast in colour of the wood and the ornament will compliment each other really well.

3) Ceiling Lights - if you have large ceiling lights like wrought iron chandeliers you can hang your ornaments from the brances with a simple hook. (Please use caution when trying this, do not place your ornaments near the light blubs as they will burn)

4) Primitive Product Additions - you can use your ornaments to finish off room sprays, bags of fixins and even jar candles.

5) Free Gifts - your customers will love your ornaments as a special surprise free gift with their order.

6) Dolls - your Raggedy Ann Dolls can hold one of your ornaments as a finishing touch or use them as necklaces for your dolls.

7) Gifts - we wrap many presents throughout the year why not finish the wrapping paper with raffier or jute, a gift tag and one of your ornaments. You could even turn your ornaments into special gift tags.

I hope this has given you some great ideas on how you can decorate with your salt dough ornaments. If you haven't made salt dough ornaments before and you would like to know how click here.

© 2006 Niki Jackson.

Artist and Show Host, Niki Jackson, "The Vintage Artist", hosts the only primitive crafting internet radio show and podcast on the internet. Get your FREE primitive crafting tips and weekly show updates now at: www.primtalkradio.com/ezine.htm
_____________________________________________________
technorati tags:blogging ,webblogs , online shopping ,primitives ,patterns ,graphics ,dolls ,raggedies ,extreme primitive ,annies ,prim crows ,prim sheep ,prim ewe ,prim decor ,country crafts ,sewing , sewing ,candles ,