While treasure hunting at the Historic Cold Springs Village antique show in Cape May, NJ last weekend, I picked up some great deals for myself and to use in my crafting.
In this pic are two really great wood spindles that came from an old house. I will probably make a candle holder with one and a make-do with the other. I just love the detail on these, they look much nicer in person. They are quite large at 16 1/2 inches & 18 inches.
Here are some old textile mill spools in varying sizes
I picked up a cheesebox that I don't already have, this will likely be made into an electric light with an Autumn theme. There are about a dozen small tin stars and 4 large stars, a wrought iron star candle holder, a pipberry garland, horseshoe, wrought iron hangers, a large white shutter, and my favorite, the back from an old chair. What am I going to do with that?? lol you'll have to wait and see.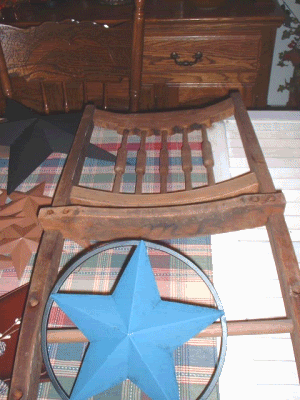 The woman I purchased several of my items from, is from the South ( I wish I could remember where), her name is Debs and she had some phenomenal stuff, lots of vintage keys, arhitectural items, door knobs, spindles, door knockers, old hinges and much more. She travels all over every weekend, the weekend before the Cape May show, she was in New York. I wish I had thought to ask her for a business card. Hoping the show will be going on next year at the time we are on vacation, as I will make sure to get her card and to take more money!!!
technorati tags: blogging, weblog, ezines, candles, primitives, country,shopping, online, raggedies, dolls, seasonal, primitive+decor,handmade+crafts, sales, prim+sheeps, prim+crows, graphics,