This is the finished sheep that I was working on a few days ago, using Chestnut Junction's reindeer pattern.
If you recall, I had elongated the head a bit more and rounded it off to resemble a sheep's head. I had planned to add some legs using twigs, then thought I'd try square nails ( also known as masonry nails) because they have a neat shape and are really a sturdy nail. I only had one in the house, so drove to the hardware store and bought a box of them. Turns out they are only 3 inch nails and way too short for the size of this sheep so I had to come up with another plan. The nails will be a perfect size for another sheep pattern I use all the time.
I had to figure out something else to use for legs so looked around my supply room which doubles as our computer room. I had a bag of 4" textile mill spools that I hadn't done anything with yet, and wondered how they would look doubling as 'wheels' for a pull toy. I liked the look and went for it. Of course they don't rotate, but this sheep is for decorative purposes only, not for actually playing with.
I knew I wanted a blanket over the sheep and tried several different things, finally settling on a wool felt blanket with fringed edges. I cut a little pocket out of muslin, stenciled the word 'sheep' onto it, then stained and sewed it on to the blanket. I stuffed some dried flowers into the pocket, which are removeable. I wrapped a pipberry garland around it's neck and attached 2 rusty bells with wire, and added a prim hangtag that reads 'Baa' and drew a willow tree and 2 mini sheep on the bottom. I've listed this sheep pull toy in my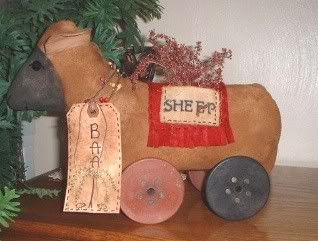 EzShoppe KKL Primitives.
_____________________________________________________
technorati tags:blogging ,webblogs , online shopping ,primitives ,patterns ,graphics ,dolls ,raggedies ,extreme primitive ,annies ,prim crows ,prim sheep ,prim ewe ,prim decor ,country crafts ,sewing , sewing ,candles ,