"The Easiest Way to do Back Stitch"
By Niki Jackson "The Vintage Artist"
So you know the 4 basic stitches used in primitive crafting, now you need to know how to do them!
Let's start with the easiest - Back Stitch: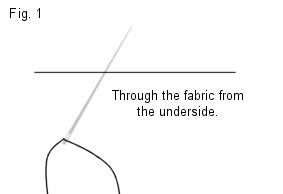 After drawing out your design with water soluable marker pen insert your needle at the start of your design.
Leave a little space and insert the needle back in to the fabric and pull till tight.
You have now made your first stitch.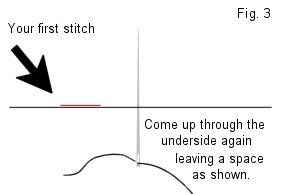 Leave another space insert the needle from the underside and pull through till tight.
Insert the needle into the end of the first stitch and pull through till tight. You should now have two stitches that look like the figure shown.
Continue using these steps until you have completed your design then knot the end to secure.
© 2006 Niki Jackson
Artist and Show Host, Niki Jackson, "The Vintage Artist", hosts the only primitive crafting internet radio show and podcast on the internet. Get your FREE primitive crafting tips and weekly show updates now at:
www.primtalkradio.com/ezine.htm
_____________________________________________________
technorati tags:
blogging
,
webblogs
,
online shopping
,
primitives
,
patterns
,
graphics
,
dolls
,
raggedies
,
extreme primitive
,
annies
,
prim crows
,
prim sheep
,
prim ewe
,
prim decor
,
country crafts
,
sewing
,
sewing
,
candles
,