I've been making some snowmen for a craft show I signed up for in early November. I drew out the shape on a piece of paper and used that as my pattern. To weight the snoman so he stands on his own, I filled a plastic baggie with approximately 1/4 cup of kitty litter, folded the bag so it wouldn't leak and stuffed into the bottom of the snowman, then filled all around it with polyfill.
His eyes are tiny black buttons that are tied on with black floss, his nose is sewn with a satin stitch using orange floss, and his mouth is cross stitched. His buttons are rusty snowflakes which are glued on and have German glass glitter sprinkled on them. The scarf is torn red & green homespun.
I fashioned his broom from a tree branch and twigs, tied with jute and he's holding it with an arm fashioned from twisted wire. The other arm holds a tin American flag.
Americana snowman stands 8 inches high.
I've finished him off by gluing German glass glitter on his head, scarf, broom and flag.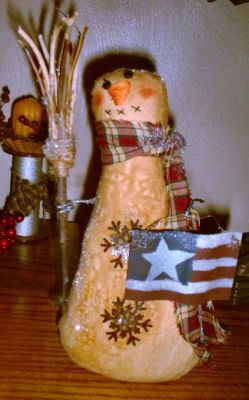 technorati tags:
blogging
,
webblogs
,
online shopping
,
primitives
,
prim decor
,
country crafts
,
crafts
,
hobbies
,
Shopping
,
decor
,
Creativity
,
Internet
,
Advertising
,
Christmas
,
Holiday
,
gifts
,
presents
,