I sold a few of these trees last year at one of the craft shows I did in November. They were a good seller for me.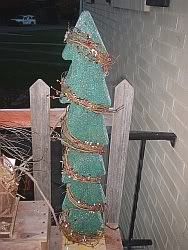 Last year I was only able to find 5 of these trees already cut out and put together, with the holes for the lights to pop through already drilled. I was hoping to get an early start this year and stock up on them. We did find approximately 50 of them but they were all damaged in some way, most of them really bad.
This one was the best of the lot, with a chunk of wood missing at the bottom, but after I painted it and added the grapevine twigs you can't even tell.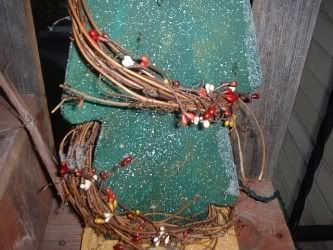 I painted the tree in greens & 'splashed' white paint on for a snow effect. The base is antique yellow. I brushed mod podge on the tree ends and on the base and added German glass glitter.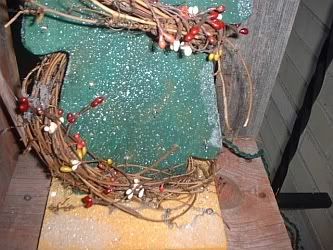 I wove pip berries through the grapevine.
The tree lit up.
Unfortunately my husband has no interest in wood cutting. He will be retiring soon and I thought that would be a nice little 'hobbie' for him but he says "nope, no way, forget it".
technorati tags:
blogging
,
webblogs
,
online shopping
,
primitives
,
prim decor
,
country crafts
,
crafts
,
hobbies
,
Shopping
,
decor
,
Creativity
,
Internet
,
Advertising
,
Christmas
,
Holiday
,
gifts
,
presents
,