A crafter friend of mine from Prim Mart asked if I could make and paint a watermelon wedge for her, as she was having trouble with sewing it together and wasn't a painter. She thought maybe I would have better luck.
Well, let me tell you............it was harder than it looked, because the patterns weren't marked very well, and after I finally got it sewn together, I still had a piece left over, lol.
I painted it and was very disappointed in how it looked. Keep in mind now, I am NOT a painter.
This is how it looked at this point.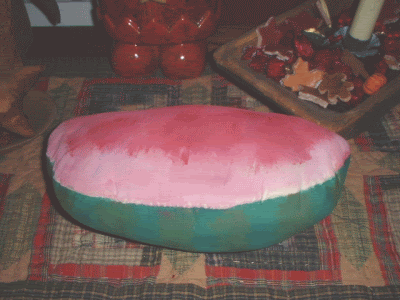 Looks a little like a melon, but not much. I must have repainted this thing at least a half dozen times until I was happy with it.
Might not be as nice as some fabric melons out there, but I'm rather proud of this one now.
Took me long enough, about three flippin' days!!
Now all it needs is a couple crows sitting on top.
technorati tags:
blogging
,
webblogs
,
online shopping
,
primitives
,
prim decor
,
country crafts
,
crafts
,
hobbies
,
Shopping
,
decor
,
Creativity
,
Internet
,
Advertising
,
Christmas
,
Holiday
,
gifts
,
presents
,
Posted by: Neenee