This project, one of my personal favorites, took me quite a while to create. I knew I wanted fabric sunflowers to be the focal point but I also wanted some crows and pumpkins to round it out.
It took me a week just to make all the sunflowers. It was trial and error as they were either too large or I didn't like how they turned out. I didn't want them to all be identical, so some are painted, and the rest have fabric other than muslin as the centers.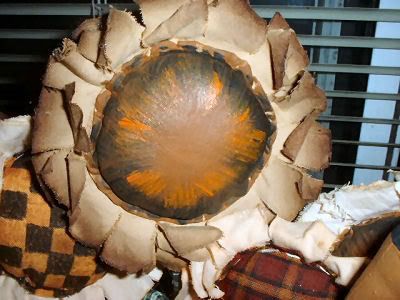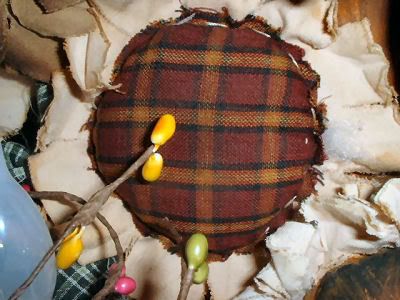 Stems are thin wooden dowel rods that I wrapped with green plaid fabric and tied bow 'leaves' onto them.
I started with an old cheese box that I picked up in an antique store. I put a layer of polyfoam on the bottom as a base, attached an electric country candle and covered with Spanish moss.
I then placed my sunflowers before pushing them down into the foam to make sure I liked the placements.
I made two pumpkins from orange felt, starting out with two round circles, sewn together leaving about a one inch opening to turn right side out. I stuffed this with polyester filling and sewed the opening closed. I then used a very long 6 strand orange embroidering thread to wrap around the 'pumpkins' to give them that sectioned look. I glued a small piece of twig to the center for the stems.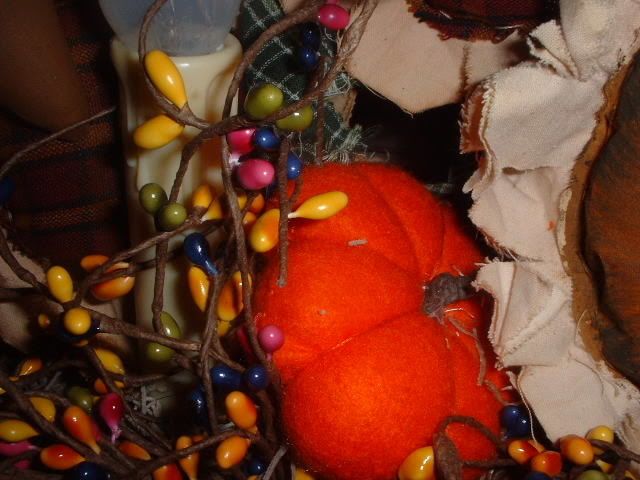 The crows are made from a pattern by Threadbare Primitives. I use them for almost all my crow projects, I just love them. One crow looks like he's sitting on the edge of the front of the box ( he is actually attached to a long nail that is painted black and is pushed into the foam to secure it). The second crow I didn't have another long nail for, so I improvised and used a wooden dowel rod, and then painted it black and secured it to the crow so that he looks like he's looking down into the sunflower/pumpkin patch.
I added more moss and secured some harvest colored pip berries to the moss with florist picks.
This box is currently up for auction on eBay
If it doesn't sell, lol I'm not too concerned because I love it so much I will just keep it for myself. If it does sell, I can always make myself another one.
technorati tags:
blogging
,
webblogs
,
online shopping
,
primitives
,
prim decor
,
country crafts
,
crafts
,
hobbies
,
Shopping
,
decor
,
Creativity
,
Internet
,
Advertising
,
Christmas
,
Holiday
,
gifts
,
presents
,