One of my readers recently contacted me about my Grungy Pears pattern. She said she was interested in purchasing the pattern from me, as it is my own drawing that I made in my PSP graphics program.


I didn't have an actual 'pattern' made up but it got me thinking, hey, maybe I can do this since there is an interest. It only takes one to get the ball rolling. The perfect place to go looking for how to make patterns is my net friend Linda Walsh of
Linda Walsh Originals
. She created FREE downloadable pdf instructions for


How To Create A Print Pattern and E-Pattern
.


After reading Linda's instructions, which are very good by the way, I made 6 new grungy pears and took a photo of them.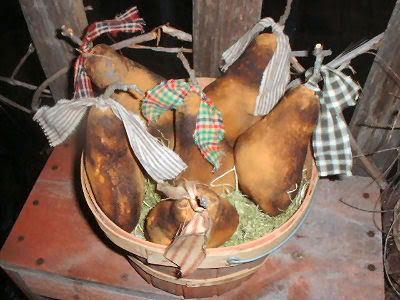 I then opened my PSP graphics program and designed the back and front cover for the pattern.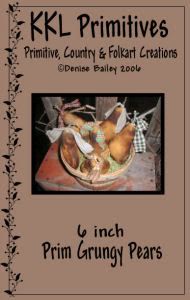 I wrote up my supplies, instructions, Terms Of Use and Copyright info and was directed to an online word processor so that I could change my files into pdf format. I used Zoho Writer and so far I like it. It took me a while to figure out how to get 3 pages inserted but I did it, again thanks to Linda.
I uploaded my pattern to my EZshoppe - it's $5 for the E-Pattern. You can also purchase it below by clicking on the 'add to cart' button.


I am planning on making some more in the near future. Just testing the waters for now. I'm sure this is all old hat to crafters who have been making patterns for a very long time, but is very exciting to a first time pattern designer.
technorati tags: blogging , webblogs , online shopping , primitives , prim decor , country crafts , crafts , hobbies , Shopping , decor , Creativity , Internet , Advertising , Christmas, Holiday, gifts, presents,

Posted by: Neenee KKL Primitives KKL Kreations The Krazy Kraft Lady Blog KKL Graphics Blog KKL Kreations Blog Menopausal Monster Blog The Crafter's Lounge Unique Boutique Graphics Community