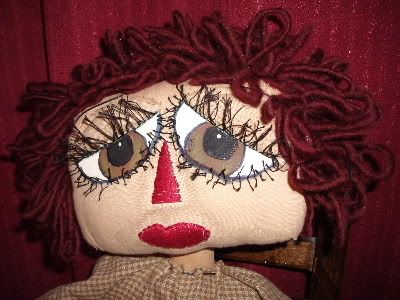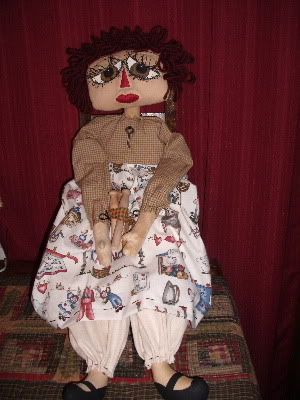 Prudence took me a very long time to make. I started her before Christmas but had to put her away for the Holidays. After New Years I brought her back out but had to tear out her legs and start over again, as I'd gotten some black paint on her legs while painting on her shoes and wasn't able to get it off. Grrrr
This was also the first time I tried to make my own clothing without someone else's pattern to go by.
Prudence is 26 inches long. I stained her with a mixture of coffee and vanilla. Her eyes are handpainted and I sewed her eyelashes on one at a time. Her nose and mouth are satin stitched.
A heart shaped key is sewn onto her bodice and she holds 3 old round clothespins that I've tied with homespun. Her bodice is mustard and cream homespun and her skirt is homespun with darling images of old time laundry graphics.
I've listed Prudence on Ebay - you can visit her
here