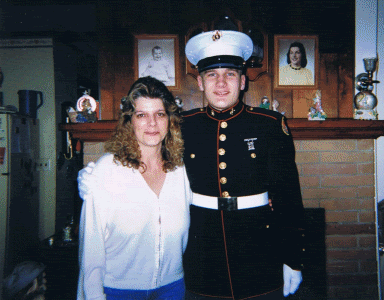 Meet Laura Barnhouse, owner / creator of Tropical Breeze Candles with her handsome son
Please share a little about yourself with our readers.
I am married - the mother of 3 boys. I live in Northeast Ohio.
I don't have a lot of time for hobbies - but when I do, I enjoy reading - sitting on my front porch.
How did you come up with the name for your website shoppe?
I came up with my business name using words that I love the best. Anything tropical - breezy palm trees. I combined them and came up with TROPICAL BREEZE CANDLES.
How long have you had your online business?
I have had my website about 5 years and an ebay store about 2 years.
How long have you been creating candles?
I actually started to make votives for myself about 6 years ago - it has evolved into what it is now. I absolutely love what I do.
I then had many requests from candlemakers to make them the wax fruits and pie crusts - that is how I started making the wax embeds.
What was your inspiration for candle making and what brought you to the World Wide Web?
My inspiration for candles would be that I love fragrance and color. I was tired of buying tarts-votives-candles that had no scent and were ugly. What better way to be creative than to make my own.
It was actually my husbands idea for me to creat a website.

What seems to be your best sellers?
My best sellers are hard to say - I do a lot of seasonal items with the wax embeds but the electric candles are a huge success.
How many scents do you offer your customers?
I offer over 100 different scents in many unique items.
Do you sell in other venues besides online?
I use a lot of word of mouth - repeat customers - link exchanges.
What methods of advertising do you use to promote your shoppe?
I use a lot of word of mouth - repeat customers - link exchanges.
When sales are slow do you do anything special to try to bring customers in to your shop?
When sales are slow - that is when I try to come up with new items and new silicone molds.
How many hours per day or week would you say you spend working on your website and candle making?
I spend at least 10 - 12 hours a days working on orders - ordering supplies - packing orders - updating my website and ebay store.

Do you have help with making your candles?
No - I don't have any help - this is a 1 woman show.
Where do you normally purchase your supplies?
I order my supplies from very reputable companies.

Do you have any future plans for your candlemaking business?
As far as future plans for my company - I just take it 1 day at a time.


Please click banner to visit Laura's website